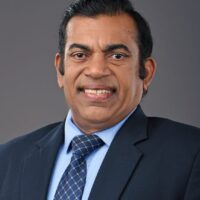 Rector's Message
Sri Palee Campus which is situated in a serene environment in the high mountains in the Wawala area near historic Horana town in the Kalutara District in Sri Lanka is a higher seat of learning. In the year 1932, on the invitation of Wilmot A. Perera, Rabindranath Tagore laid the foundation stone for the establishment of Sri Palee campus at the foothills of Kapugala Mountain in Wawala on Kaphatara Horana Road on 20 May 1934. In the year 1976, 33 acres of land were given by the Sri Palee Educational Institute to establish the Institute of Aesthetic Studies affiliated to the University of Kelaniya.
This institution was established as the Western Campus of the University of Colombo by gazette notification No. 927/16 issued on 20.06.1996. Later, the name Sri Paee Campus was again announced instead of the name Western Campus, as per gazette No. 1044/37 dated 11 September 1998 to honour the former editor Sir Wilmot A. Perera. Reverend Dr. Jiun Aoki, a Japanese national, made a great contribution to the development of this campus with the approval of the University Grants Commission and the University of Colombo.
Four departments are operating at the Sri Palee Campus namely the Department of Mass Media, the Department of Performing Arts, the Department of Computer Studies and the Department of Languages. The students entering the Sri Palee Campus have the opportunity to get an honours degree in the fields of Mass Media or Performing Arts.
Our wish is to see the young student community who embark on the quest for knowledge transform into intellectually mature individuals and leave the campus. Also, our sole aim is to make this student community a forward-looking global citizens who contribute to the progress of the society that sees the world in a superficial way.
I would also like to mention that it is your responsibility to grasp the free thinking that you naturally inherit from the university environment as well as manage it. I wish you strength and courage to work tirelessly for it.
---
Dr. Mahanamahewa holds Doctorate, Master's and Bachelor's degrees in Law from the University of Queensland (Australia), University of Melbourne (Australia) and the University of Colombo (Sri Lanka), respectively. He is an attorney-at-law in the Supreme Court of Sri Lanka and has membership in the International and the Sri Lanka Bar Association.
He was a senior lecturer, Faculty of Law, University of Colombo in Sri Lanka. A former Human Rights Commissioner of Sri Lanka, he represented the World Sri Lankan Association in the recently concluded 39th Session of The United Nations Human Rights Council (UNHRC) in Geneva.